SSPP-I Shrimp Back Splitting&Peeling Production Line
Brand : POWERTECH
Product origin : Nantong City, Jiangsu Province, China
Delivery time : 90 days after receiving of prepayment
SSPP-I Shrimp Back Splitting & Peeling Production Line:
Traditional shrimp processing factory employs a lot of workers for the whole process of head-off, back spliting, peeling and deveining of raw shrimps. With continuous processing capacity expansion and labor cost rising, more and more shrimp processors apply automated peeling instead of manual peeling.
According to market demand, Powertech has developed SSPM-I Shrimp Back Splitting & Peeling Machine for automated processing of back-spliting, deveining and peeling of head-off shrimps. Usually 6 or 12 units of machines form a production line. The production line features unique design, compact construction, smart adjusting, easy operation, hygiene & easy to clean, and etc.
After being processed by the produ
ction line, the head-off shrimps are processed into following styles: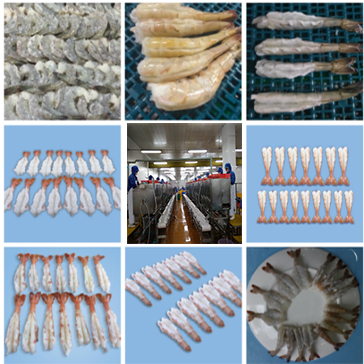 Compared with Traditional Manual Peeling:
Faster: Peeling speed is 6 to 10 times than manual operation, ensuring high efficiency;
Better: Better consistency of end products and reduces human error;
Lower: Less labor and lower cost. Smaller footprint for shrimp peeler, which reduces workshop construction budget and running cost;
Safer: Less contact between human and products, shorten processing time while ensuring freshness and food safety;
Smarter: Smart production plan. Start suitable quantities of peelers according to productivity requirement. Less problems with labor source during season and off-season.
Please feel free to give your inquiry in the form below. We will reply you in 24 hours.